You are invited....join us in 2022
Owners of British vehicles, motorcycles, trucks, and tractors are invited to participate in the annual All British Day vehicle display and picnic at Echunga.
In 2022 we will be celebrating 'British Working Wheels', the Jaguar E type, Norton bikes, and the Austin 7.
Come and celebrate the beautifully engineered machines that will feature in our display in 2022.
To make the day an enjoyable event for all, it is important that you read these Conditions of Entry and Entrant Rules.
Entries open on the 1st of October 2021 and close on the 7th November.
Conditions of entry for ABD 2022
No late entries will be accepted. 7th November will be the cutoff date. All entries received after this date will be refused and returned to the sender.
All persons wishing to enter their vehicle in the All British Day must be a financial member of a recognized vehicle club. Interstate Vehicle Club entries are welcome.
All vehicles displayed must be of predominantly British design &/or manufacture.
Modified British vehicles are most welcome.
Commercial vehicles are most welcome but any vehicle displaying advertising for a currently operating business must not engage in trading on the day.
Trade plates must not be used under any circumstances.
No Dogs are permitted at the event. This does not apply to assistance dogs for the disabled.
Guidelines for entrants for ABD 2022
Entry time for Entrants at the Recreation Grounds is 9.00am. Entry prior to this will not be allowed and please do not queue at the gateways and block entry to service vehicles etc.
All vehicles must be in place by 10.30am to allow the viewing public safe access. The gates will be closed at this point to all vehicles except service personnel, organisers and the disabled.
All vehicles must remain stationary on the oval until 3.00pm for insurance and safety reasons. This also ensures that the viewing public has an ample chance to view the exhibits.
Entrants must park within their club's allotted area and are not to encroach onto the roadways or other clubs' areas. Please keep all tents and gazebos within the bounds of your allotted club area.
No spikes or other surface penetrating devices may be used on the Ovals due to subsurface watering systems. Weights or some alternative should be used.
Cancellation due to extreme weather conditions. In the event of a catastrophic fire warning for the Echunga district or a forecast temperature for Mt Barker given by the Bureau of Meteorology as of 6pm the day before the event of 40 degrees or more, the event will be cancelled. If the event is cancelled, sorry, no entry fees will be refunded but memorabillia will be posted out.
Gas BBQ's. Due to the rural location of All British Day in summer, we recommend that you refer to the CFS website for their rules regarding the use of gas BBQ's at Echunga on the day of the event.
---
PAYMENT METHOD
Payment can be made by:
Cheques or Money Order, payable to 'All British Day Inc.'
P.O Box 3153
Salisbury East SA 5109
Paypal/Credit Card - We Can accept Credit Card Payment for entry including Memorabilia but only via our online entry form. Payment will be processed via Pay Pal we will not sight, handle or store any of your card details ABD will pay the Pay Pal fee not the entrant.

No receipts will be issued. Please check your bank statement for payment and acceptance confirmation
---
TERMS
Indemnity
All entrants, owners, and drivers enter and participate in this event at their own risk. In consideration of acceptance of your entry to attend the All British Day, the applicant releases the organisers and the organizing clubs of any and all liability for loss, damage, or injury to the applicant, their party, and/or their vehicle. The entrant, by participating in this event, and the passengers, by taking part, shall waive the right or action at law against the organisers, the committee, associated organisers, their representatives, or agents for loss, damage, or injuries arising from attendance at the event.
The Privacy Act 1988 and National Privacy Principles
The All British Day Committee collects the personal information entrants provide, and stores it in a database to enable communication with you before the All British Day. Entrants' consent for the All British Day Committee to keep details is implied, unless the committee is notified in writing that your consent is withdrawn. Entrant's name/driver's name and vehicle details (make, model, and entry number) and your vehicle club will appear in a printed program available on the day. Your details may have been included on a past entrant's database. If you do not enter next year's event, your details will remain on our database. If you would like your details removed, please provide this request in writing to the All British Day Committee.

Under NO circumstances will your information be sold or given to any external agencies for any purpose.

By signing the postal entry form or submitting the online entry form, I acknowledge that I have read and understood the information provided to me by the All British Day Committee, and agree to the terms.
Entries for 2022 open in October 2021
Entry is for ABD is for members of recognised vehicle clubs provided the entered or displayed vehicle is of predominantly British design or manufacture.
See the 'eligibility' page for more details regarding the criteria for entry.
---
All British Day Breakfast
for 2022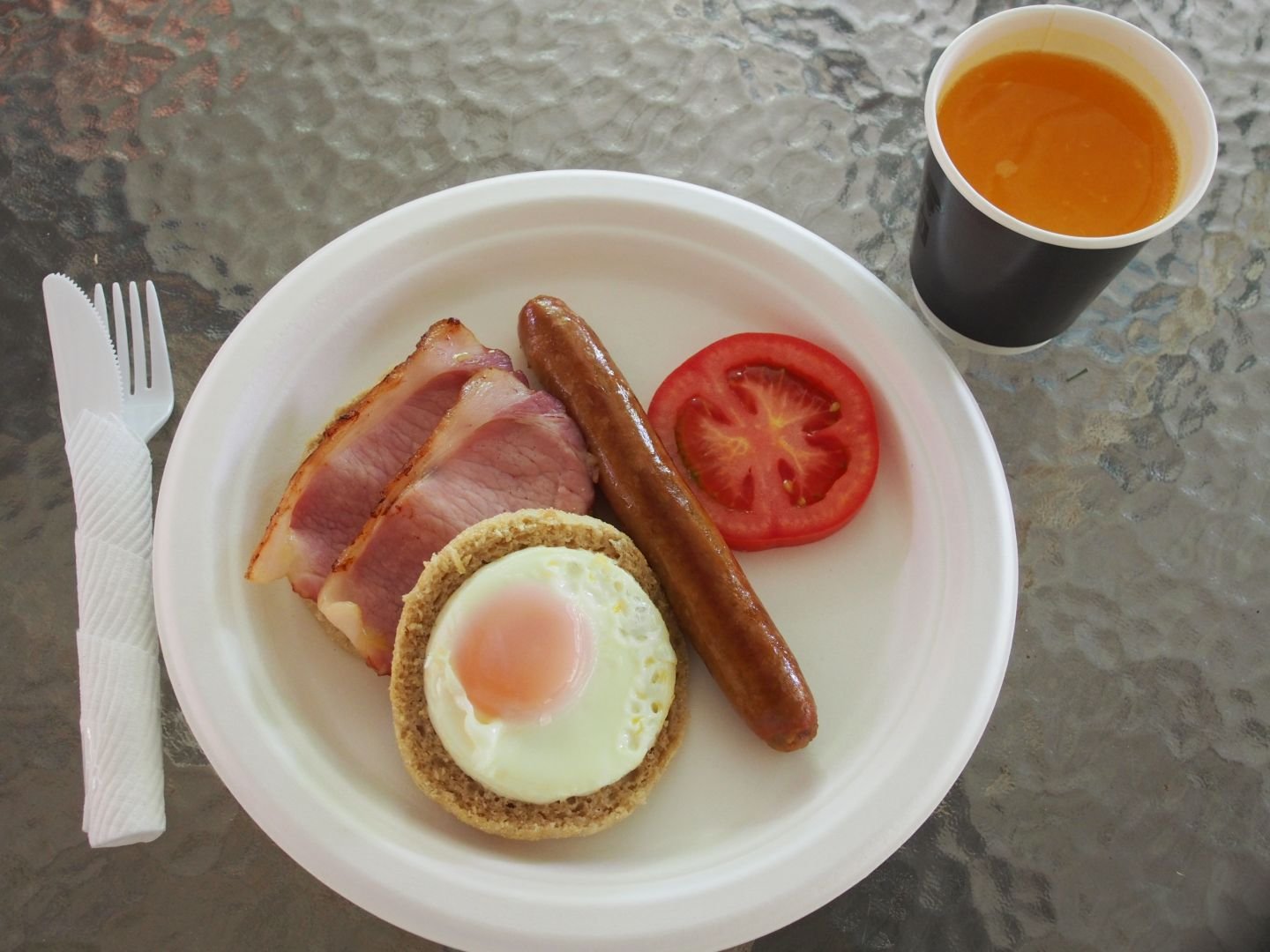 The All British Day event does not open until 9.00am. Why not join many other motoring enthusiasts at Mylor Oval for the ABD breakfast? Held at Mylor Oval from 8am to 10am. How about getting as group from your Club, or a group of your friends to meet at Mylor Oval only 8kms up the road from Echunga.
The All British Day Breakfast includes:
juice, fresh bread roll, choice of sausage or egg, bacon, sauce, onion, tomato, tea or coffee.
A hearty start to a great day and great value too at only $8.50!
Being so close to Echunga off the freeway on quite roads you will only have to leave home an hour earlier
YOU MUST BOOK YOUR BREAKFAST(s) via the entry form. Come along and start your ABD day with a big brekky.
---
ADMISSION PRICES 2022
Public admission Adults $ 10.00
Children ( up to 18y/o) $ 5.00
Family 2 adults two Children $ 25.00
Vehicle entries for members of a recognized Club is $ 22.50 *
*We understand motorcycles cannot carry the same amount of passengers as other vehicles we will therefore post out with motorcycle gate passes a complimentary Admit One wrist band for your guest .Your guest parks the car in the Public Car park and simply shows the Gate Staff the wrist band for a no charge admission to the Grounds .
---
CONTACTS
Contact us info(at)allbritishday.com
or
Mike Beresford
Vice President

Email Mike
Lachlan Kinnear
Secretary
0408 846 323